The Ultimate Guide to Home Equity & Its Impact on Your Net Worth Return to Articles
Disclaimer: This blog may contain affiliate links .
Many of our friends have gorgeous homes in those utopian neighborhoods where everyone looks as if they have stepped out of a reality show. We on the other hand, reside in an affordable condo community where we are the youngest family among lovely retirees. We traded size for a walk-able, mixed-use neighborhood and financial freedom. I admit it, my ego would love to live in a big beautiful home that would elicit a little bit of jealousy.
Oftentimes I find myself on Zillow daydreaming about our next property, and of course I am drawn to the biggest and most expensive houses we could afford. My husband appeases me when I show him our next possible adventure, but then he reminds me of our long term goals. Each month we have a family meeting when we discuss our financials and discuss our net worth. Net worth is a barometer to help you better understand your personal finances. By tracking this metric over time you can benchmark against your monetary objectives and feel more confident going into retirement.

How Do You Calculate Net Worth?
Net Worth is the difference between all of your assets and your liabilities. Consider your bank balances, investment accounts, retirement savings, credit card balances, vehicles, student loans and personal property when determining your net worth. Your home's value and more importantly, your total equity plays a significant factor in this equation.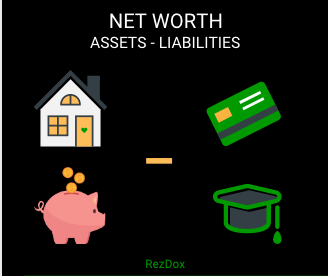 What Is Home Equity And Why Should You Care About It?
Home equity is your ownership share of your real property, in other words, the difference between your home's fair market value and any outstanding balances or property liens. The greater your home equity, the more you have acquired in net worth. Tiffany Conners wrote an article for The Penny Hoarder quoting The Budgetnista, Tiffany Aliche. The Budgetnista explains how to calculate net worth , but also demonstrates what could happen to your net worth if you are not aware of your home's value over time.
How Do You Calculate Your Home Equity?
Home equity is your home's value minus the balance of all outstanding loans against your home. Make sure to include first and second mortgages, home equity lines of credit or any liens against your property.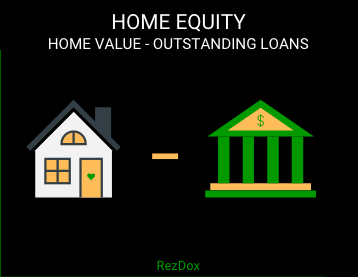 What Is Your Home's Value And How Do You Calculate It?
Home value can mean different things to different people depending upon who you ask. A tax assessor, appraiser or homeowner may have differing opinions on a home's worth, but ultimately what it will sell for equals a home's value. Many factors go into determining the value of a home including: market, neighborhood, location, age and condition.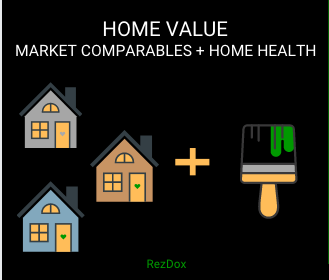 Professionals such as Realtors or Appraisers will provide the most accurate valuation of your home's value, but this could be timely and you will most likely pay for their services. Online tools or AVMs (Automated Valuation Models) such as Zillow's Zestimate or Redfin could be a better starting point as long as you know how to compensate for their shortcomings.
When using AVMs, keep in mind that their algorithms are excellent at capturing your home's market value or the comparables, but they lack some important data points. The computers don't know YOUR home. What is your home's maintenance history? What upgrades have been completed? When calculating your home's value make sure you factor in the condition of your home and any returns from your home improvements.
How Do You Calculate The Return On Home Improvements?
Home improvement projects not only reflect your design choices, but they can also make your home more functional. However, not all upgrades are the same when it comes to returns; some renovations provide a bigger bang for your buck. If you're focused on increasing your home's value make sure to do your research and understand which project provides the biggest ROI.
First, determine the "Cost Recouped" percentage, which can be found in Hanley Wood's Remodeling Cost vs. Value Report. Multiply this percentage by the total value of your upgrade to get an estimated value of your ROI.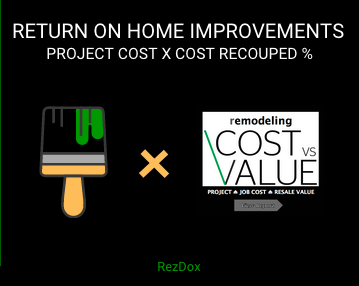 If you made it this far, you have come to the conclusion that there are a lot of data points that are needed to accurately calculate your home's value and equity. Rather than being overwhelmed, this is where RezDox can help. Our proprietary Automated Valuation Model performs these calculations for you.
Total Equity from Improvements
The Home History Log displays the total value of all projects entered into the Home History Report. The Total Equity from Improvements focuses only on the projects that increase the value of your home.

Equity Gained
The Total Equity from Improvements is combined with your current Zillow Zestimate. RezDox is able to reflect a home value that now includes both your market comparables and your home's interior improvements. The final piece of the puzzle allows our members to update their outstanding loan amounts, instantly revealing the equity gained for their home. Users can manage multiple properties within one profile, making it easy to understand all of your assets.


Equity Lift
Based on our August 2020 data, RezDox members recognized an additional 1.55% lift in home values compared to their homes' Zillow Zestimates. Our most active users saw greater equity gains between 3-5%.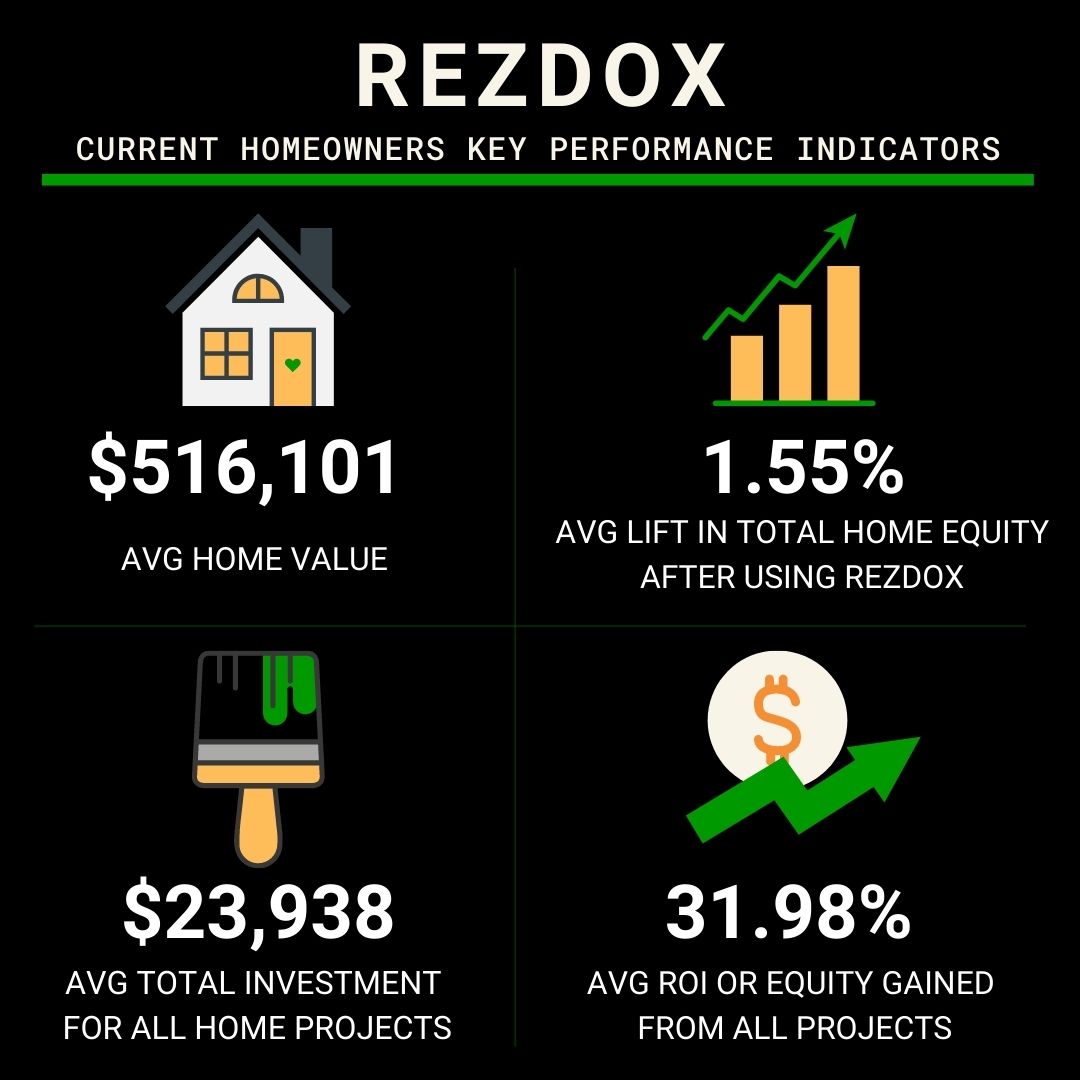 Simply by documenting their home history and home improvements, RezDox members instantly know:
Total Value of Projects
Equity Gained from their Home Improvements
Home Value INCLUDING home maintenance & improvements
Total Equity Gain
Whether you are trying to calculate your net worth or if you need documentation to support a higher home value, RezDox can better assist you with your financial goals. If you would like to learn more about RezDox or have any insights you would like to share with us, we welcome your questions or comments.
Disclaimer
We are not registered financial advisors or licensed real estate agents. The information provided is not a substitute of legal or professional advice.

Join our bi-monthly newsletter.
Get all of the latest insights and our exclusive content!