Fresher than Budding Flowers in the Spring, it's Time to Clean! Return to Articles
Removing clutter and dirt is not only good for your home, it improves your overall health and well-being. Don't get overwhelmed, spring cleaning doesn't need to be done in a day. It's ok to break things up over multiple weekends.
Ready to get your home fresh so you can enjoy your summertime? Let's get started!
Start with decluttering. Go through clothing, books and kids toys to see what is being used. Be honest with yourself and if it isn't serving a purpose

sell it

,

donate it

, or hire a

junk removal

service. Wash and disinfect the items that you decide to keep.
Tackle the nooks and crannies. Clean around the big stuff, like furniture, TVs, stoves, and fridges - all those hard to reach spots. Also, show some love to the other places where dust and dander collect, like baseboards, lighting fixtures, shelving, and tops of cabinets.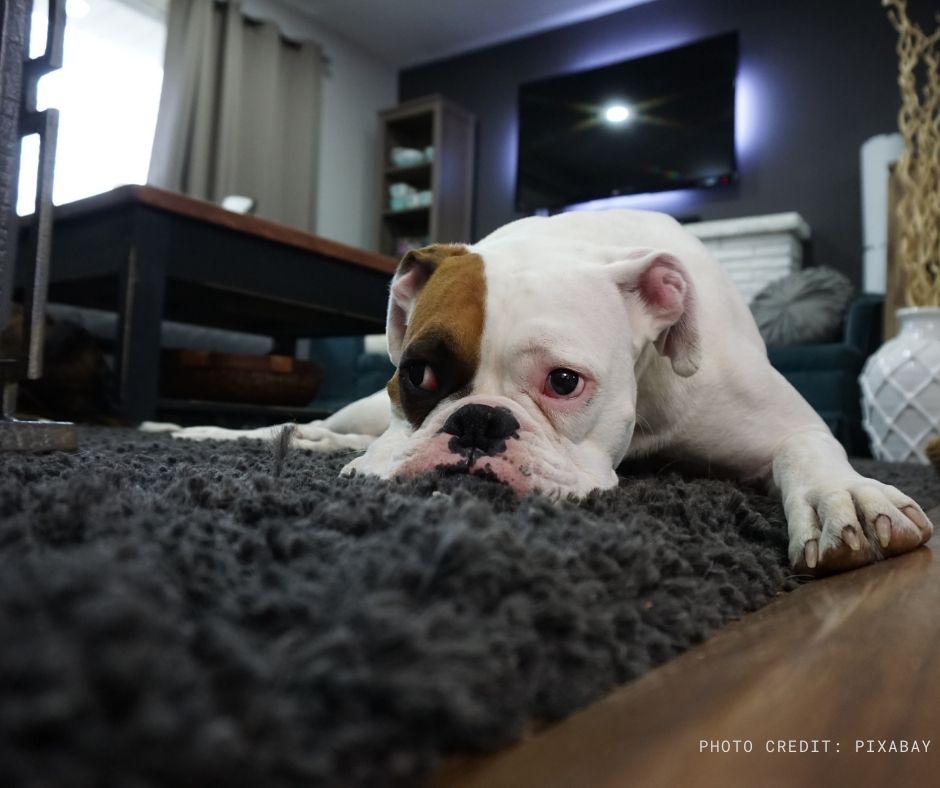 Pet dander accumulates in carpets and rugs.
Deep clean carpets and rugs. Allergens and dust gets trapped in carpeting so cleaning carpets and rugs will not only freshen them up, but also minimize sneezing for those who suffer from allergies. You can hire a

carpet cleaning service

, or visit your local grocery store to rent carpet cleaners. If you have hardwood floors in your home, take this time to polish them up.
Vents and Duct Cleaning. Improve your indoor air quality, by cleaning your ducts every three to five years. According to the

Environmental Protection Agency

, it should be done if you suspect mold, an insect infestation, or excessive debris from construction or renovations. Hire a

reputable company

to assess and clean your HVAC system.
Let the sun shine in. The best time to clean your windows is on a cloudy day, or at least when the sun has gone down. Sunshine makes streaks more prominent as it causes the window cleaner to dry faster. If you are ready to switch to green cleaning products check out these

eco-friendly glass cleaners

.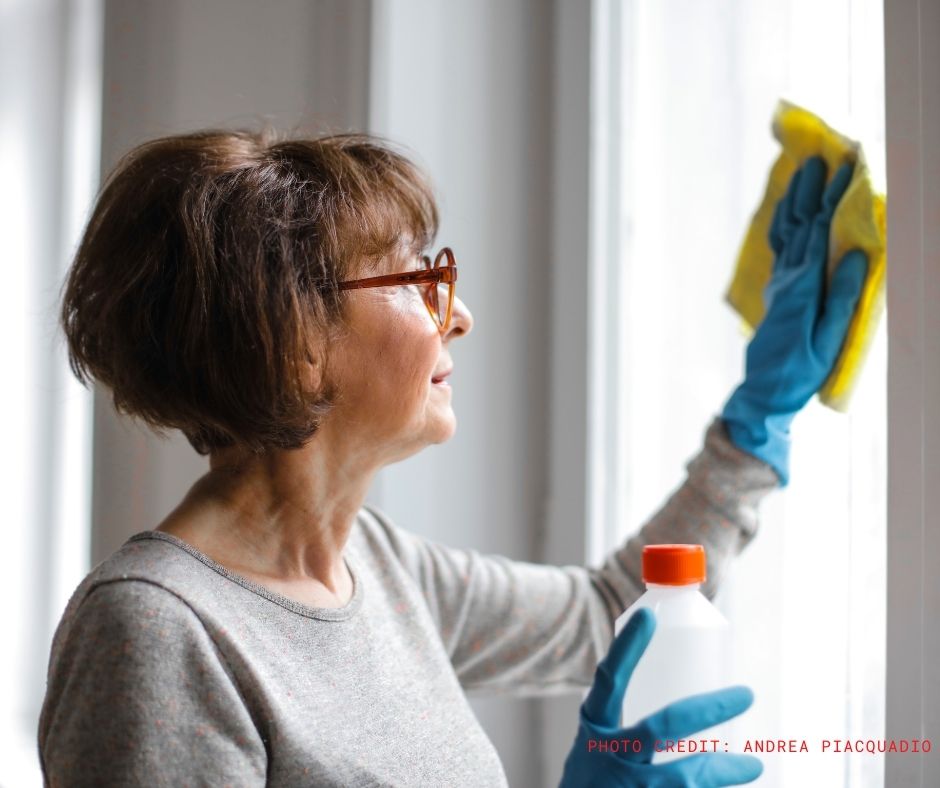 Homemade vinegar solution is one part vinegar to two parts water.
Don't forget the Paperwork. Set up a

decluttering system

that works best for you. Don't just store your invoices, take it one step further and leverage this information. Know exactly how much you spent on your home improvement projects. You will appreciate the effort when you are ready to sell, refinance, or file

taxes.
Ready for a deep clean? Here is a more

detailed checklist

so you can tackle every room in your home.
Make a great first impression. Now that your house is gleaming on the inside, tidy up the outside by cleaning those gutters and sprucing up your landscaping. Take some time to pull the weeds and prepare your garden for this season's flowers. Till the soil and install

water saving drip systems

.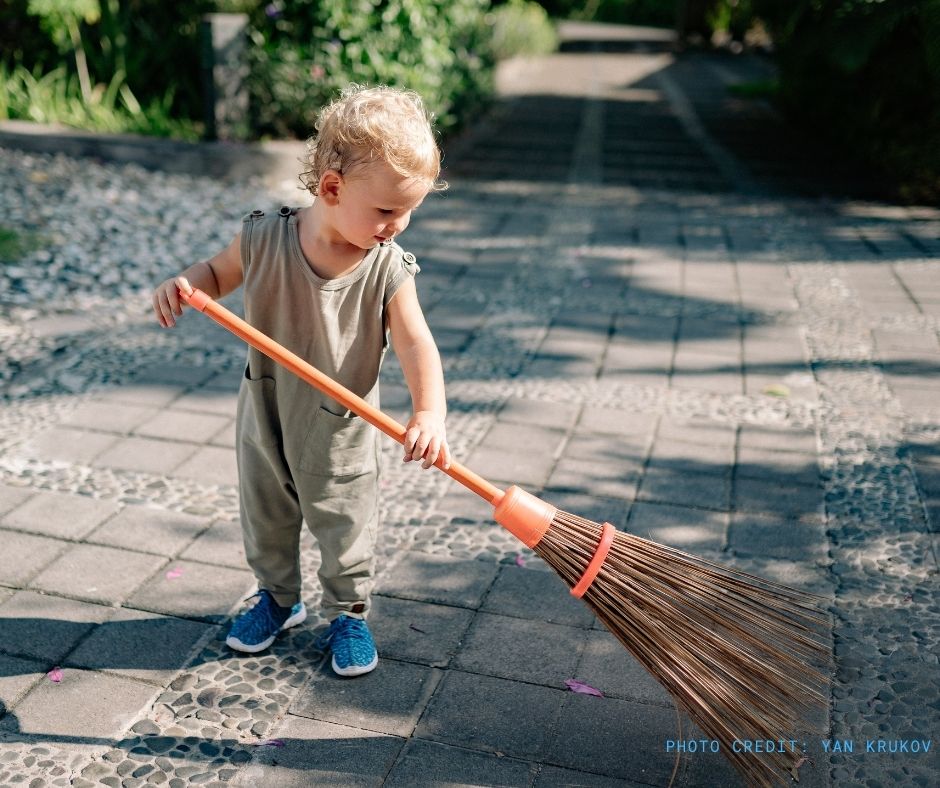 Inspect walkways for shifting to prevent trips or falls.
Don't ignore your Spring home maintenance. By taking care of your investment now, you are promoting better home health and minimizing those costly emergency repairs. Winter weather can be harsh, so

inspect the exterior

for any signs of wear and tear, including water damage.
Become a RezDox member. Track your home improvement projects and know the

useful life

of your appliances. You can now anticipate future repairs, if you use RezDox as your home's record keeper. If organizing your home maintenance seems overwhelming, RezDox offers

Data Entry Services

.

Kick back and relax and let us do the heavy lifting.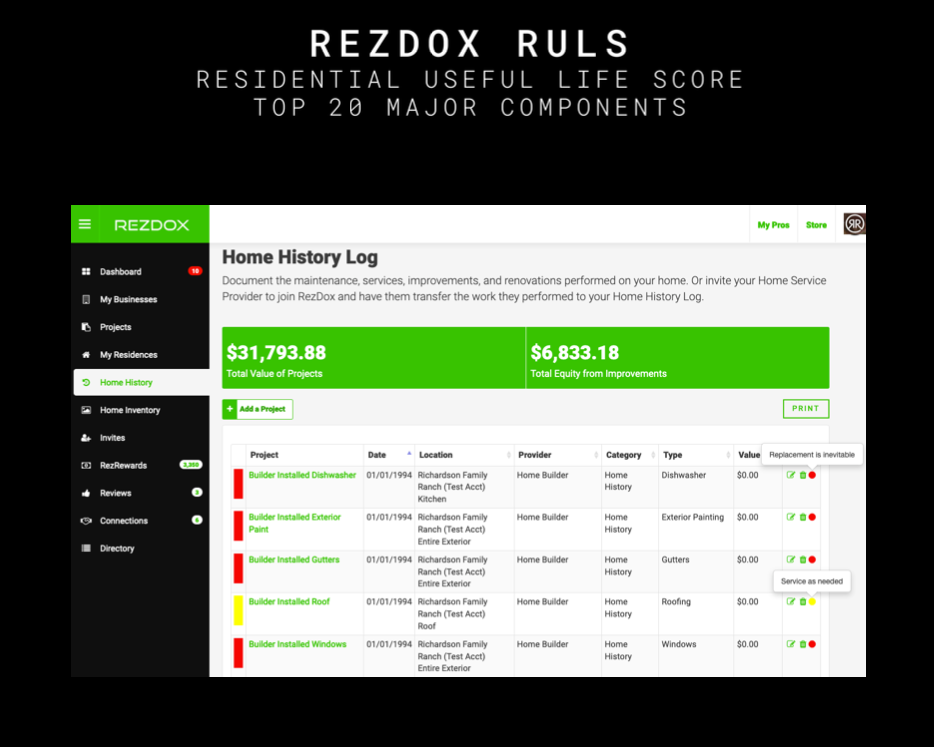 Instantly see what systems need repair or replacement through red, yellow or green traffic light indicators.
If you prefer to hire a cleaning service rather than doing the work yourself, find qualified pros listed in the RezDox Business Directory.
Spring cleaning is a daunting task that all homeowners have to deal with, but staying organized and keeping up with your to-do list can make the chore much less intimidating. A clean household is also the best way to stay up to date on your preventative maintenance to ensure your home's long term health.
Co-founder | CEO RezDox
Join our bi-monthly newsletter.
Get all of the latest insights and our exclusive content!